Is Online Banking Safe? 7 Tips to Secure Your Online Bank Account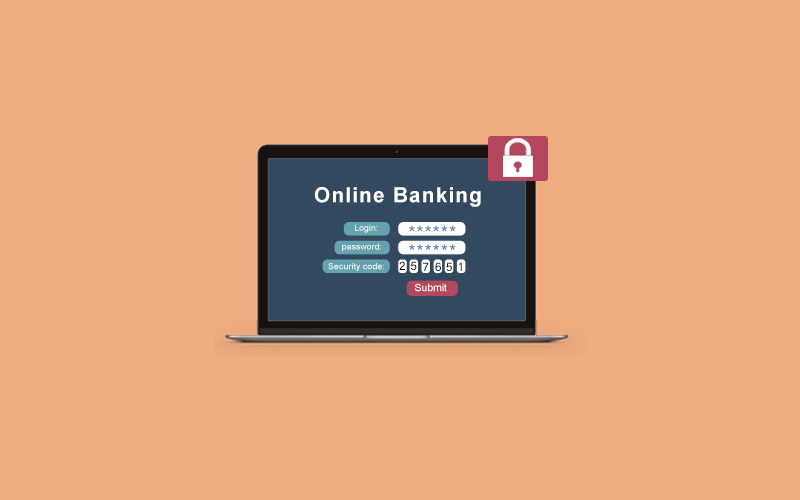 Online banking saves customers time and increases efficiency and helps customers avoid that rush at the bank branch.
Things are going online and banking facilities, too. Today, a customer need not go visit a bank branch to withdraw the money, or to submit a check for money transfer from one account to another, or for any other work. Most banks have shifted to online and therefore customers can avail of all the bank services online. The advantage of this offers to customers, and the cost savings this represents to this business is enormous, and when done correctly, can be as safe as, and potentially safer than, transactions through the mail.
Nevertheless, as we said always if you're online, you're in danger. Banking and financial institutions are always targets for hackers due to high monetary benefits. Internet banking is growing day by day and hackers keeping their eyes on each individual who holds a big amount and transacts daily. However, not for only the big amount holders, hackers always readied for everyone.
Is Online Banking Safe?
Internet banking is safe when secure bank technology on the back end is met with alert consumers on the front end. As an account holder, you have a role in making sure your accounts are protected. As we said, large-scale data breached get the headlines, but criminals also work on a smaller, scale by attacking consumers directly. For example, hackers often use so-called phishing scams, in which they send out emails or text messages pretending to represent a financial institution in the hopes of hooking an unsuspecting consumer.
The message could indicate that there is an issue with your account and request your bank password or Social Security number. It might also state you won $100 million, but you need to provide your account details in order to receive the funds. If you respond, the criminal may be able to use your details to make unlawful purchases or withdraw money from your account.
Your Bank Environment and Fiscal Health
Before you reach any decision, make sure to properly analyze your bank environment and fiscal health.
Internet banking can be different for different users for safety purposes such as if you're going to use the same bank online that you use offline you don't have to worry about the bank's legitimacy. On the other hand, if you're thinking of switching to an online bank, take the time to research the bank to be sure it's legitimate and solvent.
You can check the bank's official website, look for how long the bank has been in the business, where the bank's headquarters are, and how you can contact them. You also need to verify if the bank is FDIC insured for at least $250,000 per personal accounts so your money is safe.
Online Scams and Fake Websites
When you're sure that you're using a safe computing environment, and also using a legitimate, solvent bank the biggest risk to your online banking is if you fall for the scam. Remember, the scam could be specifically targeting your financial account by pretending to be the official bank and sending you an official notice asking you for some personal or financial information. This type of scam is called phishing, a general scam that targets your computer to give it malware.
However, if you show a little bit of awareness, you can avoid phishing scams. But the one basic rule to avoid phishing scams-never click on a link in the email and never download any attachment from the email. If you need something from your bank, always go to the bank's website on your own by using a search engine. For more online banking safety tips, read the next section.
7 Tips to Secure Your Online Bank Account
Internet banking aka e-banking security is in your hand. Don't give too much to any institutions for banking facilities until or unless you're not sure about the bank. Here are 7 tips you should follow to keep your online bank safe.
Secure your computer
Use Strong passwords
Secure your Internet connection
Avoid phishing scams
Don't use public networks
Check your bank statement regularly
Two-factor authentication
Secure your computer
The very first online banking safety measure is securing your computer. Having up-to-date security software, which includes antivirus protection isn't an option; it's a requirement in today's online world. If you are not sure that you have the need for security, install these tools, keep them current, and use them unfailingly- this would become as automatic as locking your doors when you leave your house.
Use Strong passwords
Passwords are the most important security to secure your online bank account. You can create a strong password on your own or use the password manages to create and store your passwords. A password manager tool allows you to create, store passwords without needing to memorize them, and many will even generate strong passwords for you. Remember, no financial institutions or the IRS will send you an email message asking for your PIN or password.
Secure your Internet connection
Your internet connection plays a major role in your online banking safety. If your internet connection is vulnerable to attack, hackers can get access to your computer and steal your personal and financial information. They can use this information to steal money from your account.
Avoid phishing scams
Phishing scams can lead to financial data breaches cases, that's why makes sure you avoid phishing scams. Phishing scams can become via links or suspicious attachments via email- this is the common way for phishing scams use by hackers. If you get attack by phishing scams, your computer data may reveal to hackers and this can lead to other banking or financial scams with you.
Don't use public networks
We do not recommend using public networks for internet banking, because you have no control over the security of a public network or public wireless network; for all, you know they are riddled with malicious software waiting to steal every last piece of your information. You can use your own mobile network or VPN to access your bank account information. This is one the best thing comes along with other online banking safety tips.
Check your bank statement regularly
Don't wait for your bank statement to come at the end of the month; do check your bank statement each month. Even though banks are highly skilled at recognizing fraud, particularly with credit cards, they might not always be able to spot every questionable transaction among all customers, so make sure to verify your statement on a monthly basis.
Two-factor authentication
Banks are also providing features you can take benefit of, to protect your internet banking. Here, two-factor authentication comes in. With this, you'll need your password and another proof of identity like a one-time code sent to your phone in order to log in to an account. In case, hacker get your bank account login credentials, still it would be tough for them to log in without the verification code send by two-factor authentication. If you need help setting up your 2FA, reach out to your bank's online customer service.
Final Touch
Hey guys! This was the guide about "Is online banking safe?" Online banking is safe or not, it depends on different parameters, and if you're an alert customer, you can secure your online bank account. Internet banking is not only a desire of the customer, but it has also become a necessity, and as things become easier, it is becoming more difficult to secure them. Follow the above 7 tips to secure your online account and keep going with e-banking.