How to get rid of virus on Android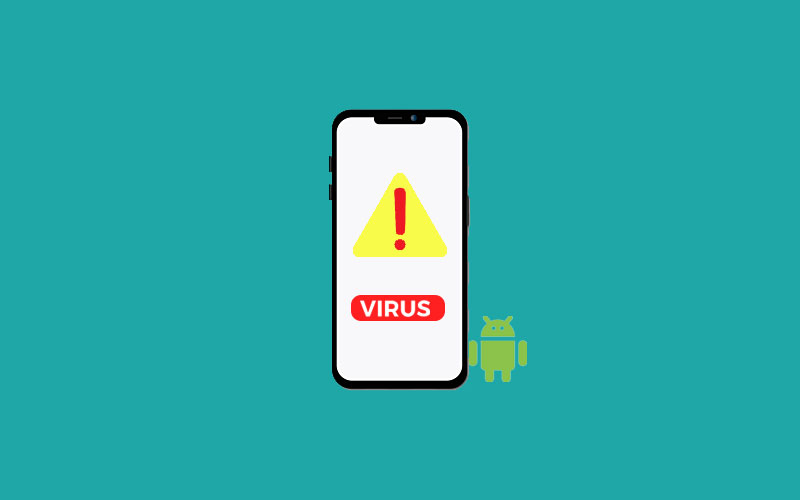 Do you think your android phone is virus-infected? You may be right, but we recommend you to check that your android phone is really virus-infected or not. If you found your android phone virus-infected, then you surely want to get rid of virus on your android phone.
This article is going to be your perfect guide on "How to get rid of viruses on android." Explore things more than the title says in this article. Read the complete article for fruitful results.
Do I have a virus on my phone?
You can always find some hints to that you need to take action. Here are few signs that your android phone is virus infected.
Unrecognized apps
Check your apps list to see if there is an app you cannot recognize, or you didn't download, or you aren't able to remember the downloading of that software.
Crashes Regularly
Remember crashes can happen due to many issues. For example, if a crash happens once and there are no other symptoms, a virus may not be the issue. But if it starts happening frequently, a virus is likely the cause.
The battery draining faster
If you think that your android phone's battery is draining faster than usual even when you're not using your device, that's another likely sign.
Unwanted Pop-ups ads
If you're receiving so many unwanted pop-up ads more than usual, a virus can cause pop-ups to become even more and annoying.
Increase Data Usage
If your mobile bill shows much more data use than usual, and you're using your phone as you normally do, a virus is likely the reason.
You're getting additional texting charges
Sometimes malware sends text messages to a premium numbers, driving up your charges.
Note: All the listed signs are mostly similar to virus infected android phones. Still, you should check perfectly and make sure after the proper analysis of your phone and then make a decision about your phone is virus-infected or not. Otherwise, it may cost you more than you think. And if you don't want it, you can use Waredot Antivirus – a free hand scanning tool. Waredot antivirus will scan your phone and if it find virus on your android phone, it will remove virus by default.
Download Free Waredot Antivirus
How do Android phones get viruses?
Android is also more often targeted by hackers because OS powers so many mobile devices today. The Android operating system's global popularity makes it a more appealing target for cybercriminals. In respect of viruses, Windows and Android phone works quite similarly.
In android, the most common way phones get viruses and other issues are through apps, attachments via email, text messages, and even nefarious websites.
5 Android Viruses Names
This is surely for your knowledge, because "to win the game, you need to understand the game first." Otherwise, it doesn't matter what kind of virus your phone may have, since, no matter the type, it will need to be addressed. Maybe it's likely one of those listed here.
A virus can not only limiting your mobile functionality, viruses can cause more serious damage in your life by deleting data, collecting sensitive information, or making unauthorized purchases.
Adware
Adware generates advertisements with links to web pages or apps that can cause damage or security breaches.
Malware
Malware takes over certain phone functions in order to steal information, send messages, or perform other undesirable actions.
Ransomware:
Ransomware is a type of malware that encrypts files or apps and then demands money from the user in exchange for unlocking them.
Spyware
Spyware monitors a user's phone activity for malicious purposes.
Trojan horse
Trojan horse spreads using the legitimate app and then interferes with the phone's operation.
Tips to Protect your Phone from Viruses
Whether you're infected already or not, here few tips you can follow to protect your android phone from getting a virus.
Stay up to date
Download apps from Google Play Store only
Think twice before click any link, download any attachment
Don't follow phishing schemes
Monitor texts
Stay up to date
Whenever you download any software on the android phone, make sure you download the updated version of the software as well as make sure you keep your android version update on time. Go to Android settings and then System update and if the update is available for the latest android version, you can update your android phone to the latest version.
To update the software on an android device, you only need to open the application under Settings and select the app you want to update from the app list. The app will continue to check for updated versions of all installed apps and will notify you if there is an app with an available update on the Play Store.
Download apps from Google Play Store only
Do not download any third-party app from the website or any other unsecured source. Google Play Store is one of the best and secure places to download third-party software. If you want to make sure about the app quality, you can read the reviews and check out the developer's website as well.
Think twice before click any link, download an attachment
Hackers will try to steal your information through links, and attachments by sending via email, or websites (while net surfing on mobile web), social media messenger, and normal text. Therefore, you need to make sure that you do not click on any link, download link and do not open any file or attachment, especially in the email. These all can lead the virus or malware on your android phone.
Don't follow phishing schemes
Many hacker or scammer sends fake emails that pretending coming from the legitimate companies. The emails often feature the common signs or slightly-off email addresses, poor grammar, and requests for you to "update your credit card information" or other phishing scams.
Monitor texts
Maintain the same level of skepticism when it comes to text and social media messages, as well as advertisements.
How to Get Rid of a Virus on Your Phone
To remove the virus, you need to reboot your smartphone, in safe mode, and then remove any app that you don't remember installing.
To do so, press and hold the Power button on your smartphone and then tap and hold the Power Off button. Now, your phone is in the Safe Mode. In the Reboot to safe mode screen, tap Ok.
In safe mode, go to Settings >Apps. Look through the list of apps you didn't download or that look suspicious. Click on the app you'd like to remove, and then hit Uninstall.
Now, to exit safe mode, just restart your phone. Press and hold the Power button and then Restart.
You're done!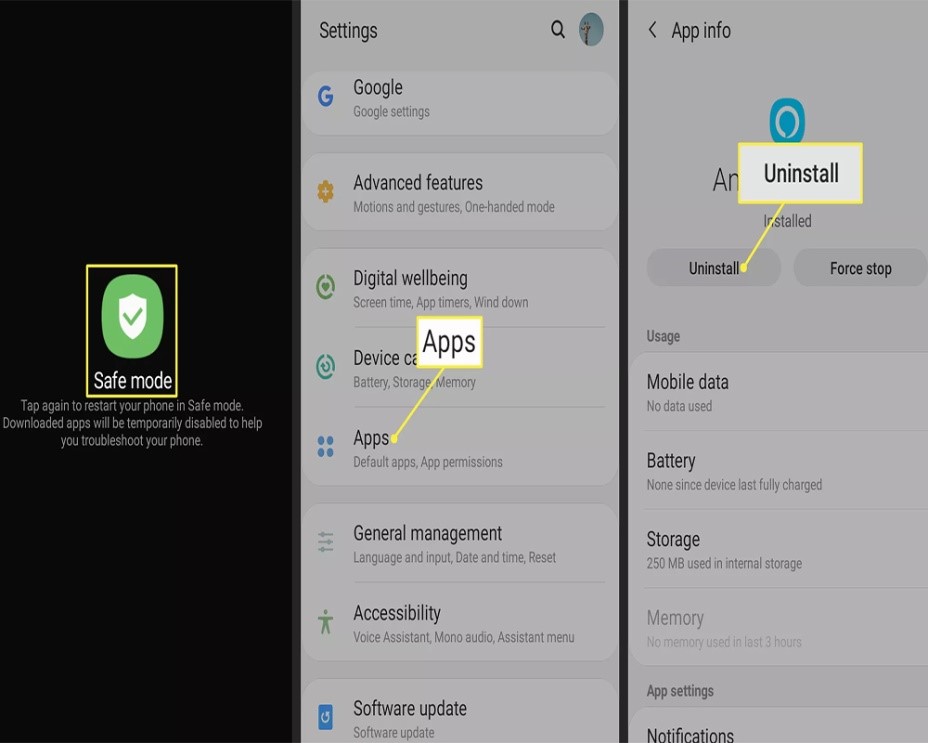 All-in-One- Factory Reset
If all else fails, you can factory reset your Android. But make sure doing so will restore your device to the condition it was in when you first purchased it. Therefore, you should first take the backup of your android phone and then (if you want) you can go to this route.
What is Google Play Protect and How Does it Work?
Google Play Protect is a built-in security program that helps you to keep unwanted or dangerous software (often called malware) off your device. It provides protection to your smartphone or tablet. Google Play Protect is updated on a regular basis to effectively combat the latest malware. It automatically scans your phone or tablet in the background, checking for harmful apps or other behaviors that could leave you vulnerable.
How Does Google Play Protect Work?
Google Play Protect works as a security check for the newly downloaded app. For example: when you download a new app from the Google Play Store, Google Play Protects runs an in-depth safety check on it. If a newly downloaded app found harmful in any way or it if violates. Google's unwanted Software Policy, you receive a notification that will inform you of the potential problem before the installation process has completed.
Now, once it informs you about the software's harmfulness, you can choose to stop the download or remove the apps. Google Play Protect also scans your device on a regular basis for potentially harmful apps that you may have previously installed, particularly those that came from sources other than the Google Play Store.
Plus, Google Play Protect also will notify you if any software will try to access your personal information. Google Play Protect alerts you to the fact that it is in violation of Google's Developer Policy and recommends disabling or uninstalling it.
How to Check Google Play Protect Status?
Google Play Protect performs all its activity secretly. If you want you can check which apps it's recently scanned as well as its current status by following the steps:
First of all, navigate to the Play Store icon located on your device's home screen.
Now, choose the Menu button (three horizontal lines) appearing in the upper-left corner of the screen. Doing so will appear the menu, click Play Protect to display the Google Play Protect interface.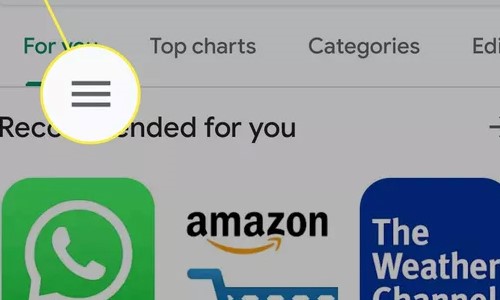 Now, you can check the status at the top of the screen, noting if any harmful apps were discovered. On the same screen, just below the status is a list of apps that have been recently scanned, along with the date and time that the most recent scan took place.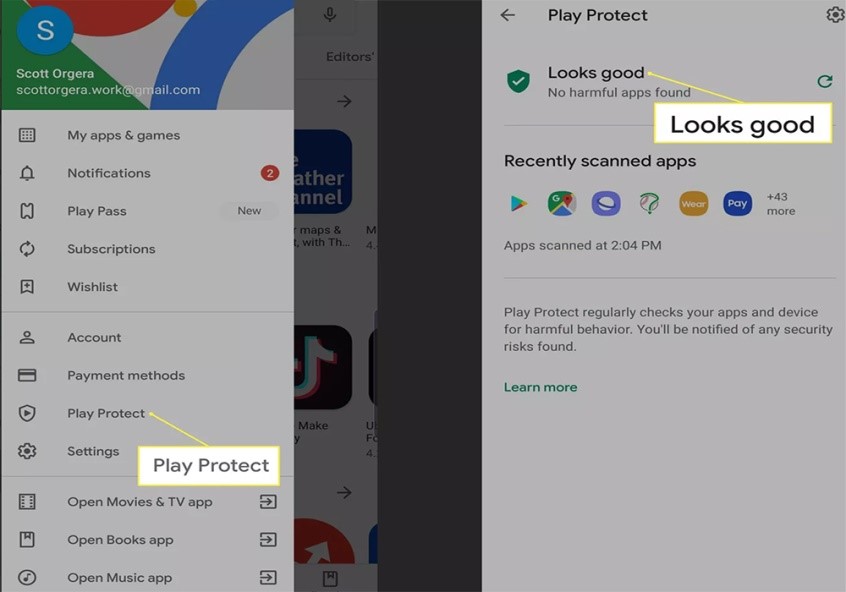 Summary
Hey guys! This was the guide about "how to get rid of viruses on Android." To get rid of viruses, rebooting your smartphone and clean your phone from there can be the best method to follow. However, you should also take proper care of your phone and don't forget to follow the "tips to protect your android" we have discussed above.
We tried to include the best stuff for your knowledge and to secure your device. If you think we missed anything in the article, please let us know in the comment section. We will surely try to cover your query on priority.