Amazon Scams by phone, email, and text messages: Protect yourself from Amazon scams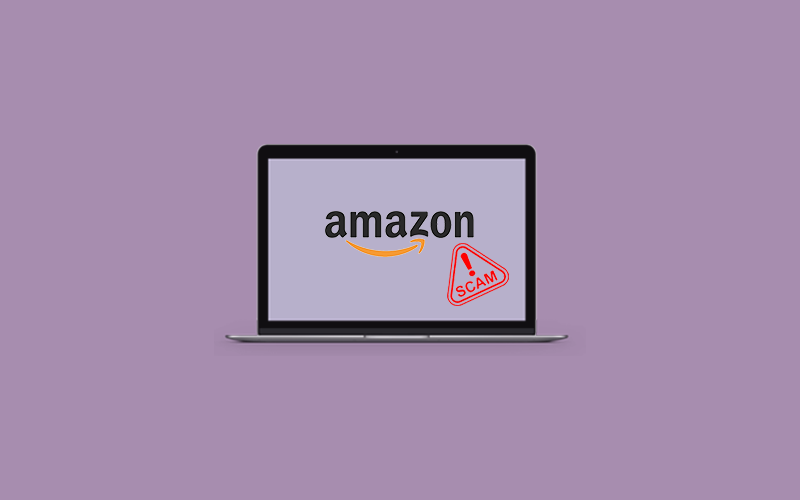 Amazon is the biggest largest online selling platform in India and it has a massive market capitalization as of June 2018 that is in excess of $268 billion in the U.S. Amazon works across the world and it uses by both individuals as well as businesses, and the site is available in many different countries and languages. Amazon has 9.7 million sellers in 2021, of which 1.9 million actively selling on Amazon sellers plus 95 million (including Amazon Prime) loyal Amazon customers are currently shopping from across the world.
Amazon is emerging day by day and it has crossed all the limits of online selling, but does it also giving the indication to lots of hackers and online devils who are always in the eye of hacking someone who is connected with the large platform and have a great investment in his account. However, this is so common that every big platform do compromises and it directly affects the members of the family. Like Amazon, Amazon has a large family, and these hackers and scammers parasitically exploit the marketplace's popularity. These scammers defraud all sorts of users: sellers, buyers, regular users, and one-time visitors. Even, if you've never logged on to Amazon, still you may target by scammers using any of the scams:
Amazon scams by phone calls
Amazon scams by emails
Amazon scams by text messages.
These three types of scams are very popular for scamming for Amazon sellers and buyers. And many of the users have already met with some of these Amazon frauds. And once you get scammed or hacked, it's really difficult for you to come out of it.
Fortunately, difficult things can be easily treated if you focus, because avoiding and protecting yourself from scammers is all about focus and awareness. In this article, we will discuss emerging Amazon scams by phone calls, emails, and text messages and how you can spot Amazon scams on your account. Additionally, with each scam, we will tell you some tips so that you can protect yourself from Amazon scams and if you already breached what to do, and how you can connect with Amazon customer support for further assistance.
Amazon scams by phone calls
Amazon scams are spreading through various sources and a fake phone call is one of them. Scammers do fake calls to Amazon customers, sellers, buyer and other who are connected with Amazon. These fake phone calls claim to come from Amazon and try to convince you to reveal sensitive account information. When or if you reveal your account information, you will be in danger in just a few seconds. These fake calls can be of different types and offer you different schemes in order to reveal your account information; you can get more information on these scams types in the "Bonus Tip" section.
Fortunately, you can easily spot Amazon fake phone calls scams. Amazon has strict instructions for buyers and customers not to follow some activity if anyone says to you. Plus, please go through the information provided by Amazon to Know What Amazon Won't Ask For and how you can stay away from Amazon fake phone calls (Vishing).
How to protect yourself from Amazon fake calls
Amazon says that Amazon will never call you to disclose or verify your Amazon password, credit card or bank-account number or any sensitive information of your account.
First of all, be alert when responding to such calls.
We recommend you download Truecaller on your phone. Truecaller is the world's best Caller ID & Spam Blocking app. It will help you to identify the number and you can also block them. For example, when you receive a call, if it is spam, Truecaller will show the Red notification on the call that indicates this caller is spam. For normal or genuine numbers, it will show you a Blue notification, otherwise. Get more details on Truecaller.com
Do not reveal your account information or any sensitive information related to your account or monetary benefits with anyone on call.
Amazon never asks you for sensitive Amazon account information, e.g., password saved cards or banking account information such as bank account number, CVV, etc.
As Amazon says, they never call you about any contest or offers as they are visible on our website or mobile application.
If your account has already been scammed or breached and you want to take further action, you can call Amazon's security department at (888) 282-2406.
If you've revealed your account information, we recommend you immediately change your account password other credentials in your Amazon account.
Amazon scams by emails
Here, another type of Amazon scam is email. Amazon scams by emails are also spreading with rapid speed in the current time. You may get several emails every day pretending to be from Amazon and ask you to open, take action, click the link, or download any attachment. There can be various other types of scams that scammers do via email and if you want more information on these scams types, go to the "Bonus Tip" section.
It's not so difficult to spot Amazon fake emails scams; you just need to be a little patient and aware of it. There are few telltale signs that an "Amazon" email isn't genuine.
The first one is, sending the address of the email. You may not able to see the sender's complete email address, you can see the sender's name that as sender chose to use. What you need to do here is, click to reveal the full email address or some email programs have a little arrow by the name that reveals the full address and you'll easily get the first clue for suspicious email. For example, the email address: order@amazonhelp.art
Amazon uses its own ISP network. So, you can check that if the email contains the name of another Internet Service Provider (ISP), it's fake.
Here, you need to remember that Amazon wouldn't use the .art domain for customer support emails. For example, in the U.K., Amazon sends any email such as Amazon order confirmation emails to come from digital-no-reply@amazon.co.uk. Similarly, in the U.S., the email address would end with Amazon.com. These are the things you should notice before you take any action in an email.
How to protect yourself from Amazon fake emails
If you want to protect yourself from Amazon fake emails scams, here are some tips you should follow that Amazon and we suggest.
Remember, Amazon will never email you to disclose or verify your Amazon password, credit card or bank account number, or any sensitive information about your account.
If you get any such email; asking you to take action on your account or forcing you to click on any link, downloading any attachment or call to this number for protection, make sure you do not perform any of these actions or any other actions via email. These can lead breach of your account.
You can more one thing is deleting fake email immediately. It will help you to relieve your stress.
To better your security protection, we recommend you enable Amazon Two-Step Verification. Click on the link and follow the on-screen instructions.
You can also report Amazon fake emails or unsolicited emails to Amazon by sending that fake email at stop-spoofing@amazon.com.
If you want to know more about the security things of your account, you can click here
The last one, phishing emails are the most common way for hacking or scamming. Using email scammers try to install malicious programs on your system to get sensitive information. To protect your system from phishing emails, we recommend you to install Waredot Total Protection. It filters all the outgoing and incoming emails and blocks all the suspects from robbing all your significant information.
Amazon scams by text
It's Diwali season and Amazon sale is at high and Amazon service provider looking for more workforce, and this is also the indication for hackers to conduct Amazon scams by text. For few days, I have been receiving job offers via text message from an unknown source that claims to be from Amazon. These text messages also contain some links or phone numbers and force you to take some actions.
Fortunately, I am very well familiar with these Amazon scams, so I didn't perform take any action on this. Similarly, I recommend you to do so as well. As we already told of that Amazon never calls email, or text messages especially these types of offers, and ask you to call on any numbers. These Amazon scams by text can be of different types, go below and learn more in the "Bonus Tip" section.
You can spot these Amazon fake messages. See, if there are any offers such as job offer, bonus, cashback, gift card, asking you to call on the number, it's all fake messages. Do not reply and delete the Amazon fake text messages immediately.
Example of Amazon scam test message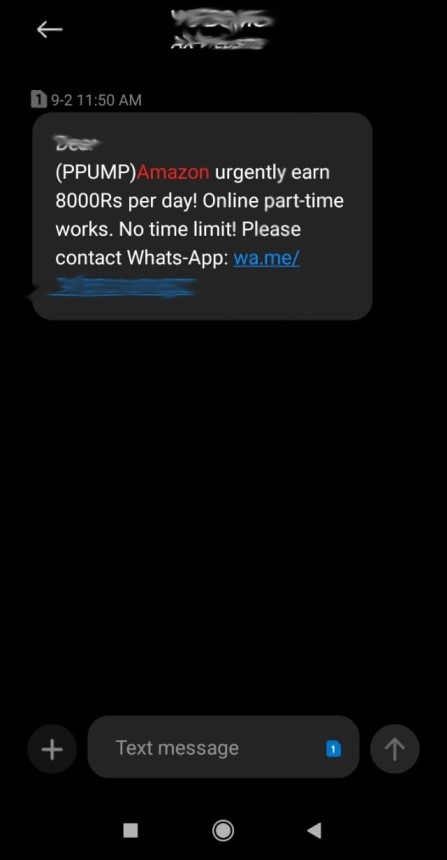 How to protect yourself from Amazon fake text messages
Follow these tips and protect yourself from Amazon fake text messages.
Make sure you do not perform the following activity:
Opening fake text message
Downloading attachment
Clicking on any link
Reply to the email
Calling on the provided number in the text email
Once you find the text message fake or spam, block that text message and delete it immediately.
Bonus Tips:
There are various Amazon scams emerging day by day via phone calls, emails, and text messages. These Amazon scams are of different types can force you to take any action on your account or giving any sensitive information to hackers. Here, we will discuss the top 8 Amazon scams types, which will help you to identify the Amazon scams so that you can protect yourself by your own.
1. Amazon phishing scam
Phishing fraud can happen via fake phone calls, emails, or text messages. Amazon phishing scams are like; a scammer contacts you via emails, phone, or text message claiming to be a customer service representative from Amazon and try to know your personal account information or data.
2. Gift card scams
This type of Amazon scams offers you that users can make purchase using Gift cards, not only Amazon but also on other third party platforms. Remember, Amazon gift cards can only be used on Amazon, and never can be used as a legitimate payment to other businesses and individuals.
3. Amazon job offer scams
In this Amazon scam, scammers give the job offers with high salary and ask you to click on link or call to this number.
4. Fake messages about free subscription of Amazon Prime
This Amazon scam offers you a free subscription of Amazon Prime and if you want to avail, they will ask you for your account information, credit card information, and force you to call on some random number.
5. Bogus Bumper offers
As you know, Diwali is coming, and Amazon Festive Season is going to starts and scammers take full benefits of it. They offer the bumper offer or big discounts on products and ask you to visit some suspicious link.
6. Bogus online listing
In these scams, scammers claiming to be an Amazon seller, once again approach potential victims offering deeply discounted goods and services. Here, the seller demands Amazon gift cards as payment to make a purchase and when you do so, the goods never arrive and you can't reach the seller to ask for your money back.
7. Fake alerts about suspicious activity on your Amazon account
In these scams, you will be notified that there is some suspicious activity noticed on your account via text or email, and to protect your account you'll be asked to visit the link. The link will lead to a fake Amazon site and if you enter your account information, it directly goes to scammers.
8. Fake Amazon order confirmation
In this scam, you'll be asked to confirm the order that you actually didn't make.
Final Touch
Hey guys! This was the guide about "Amazon Scams by phone, email and text messages: Protect yourself from Amazon scams." Amazon scams are increasing day by day especially when the festival season is around. So, if you receive any message via text, phone calls, or emails that ask you to take some actions related to your Amazon account; take a deep breath and think twice before you perform any activity on your account. Follow the instructions and tips in this article and protect your Amazon life on your own.