How do I change My Yahoo Password?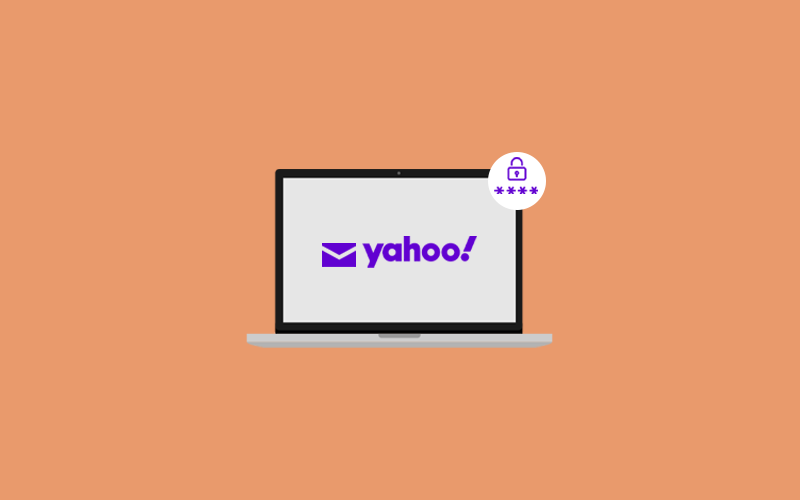 It might possible that you're dealing with more than one email accounts and Yahoo is one of them. Nowadays, things about Google and Outlook are coming out only, Yahoo is like an outdated service now. And that's why if you want to know something about it, you may have to use more effective than using in other email providers like Gmail.
To ease your Yahoo life, we bring this perfect guide to Yahoo email. Our first section will definitely talk about "How do I change my Yahoo password" which is most crucial and our centerpiece as well. Let's start the article guys:
3 Ways to Change Yahoo Mail Password
Find out the best 3 ways to change your Yahoo mail password.
Method-1
How to Change Yahoo Mail Password on PC
Here's how to change yahoo mail password:
1. Visit the Yahoo Mail website and log in to your account. Once you logged into your account, go ahead. Click on Settings (gear icon). Doing so will open the menu. From the menu, select the "Account Info."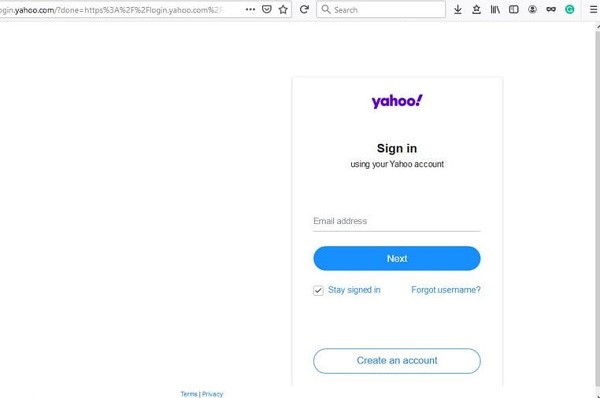 2. Now, click the "Account Security" tab on the left. Click the "Change Password."
3. Now, enter your new password twice to confirm it. Make sure to choose a secure and ultra-strong password.
4. Click "Continue" to save your new password. Your Yahoo! Mail password is the same password for all other Yahoo! Products, including Yahoo! Messenger and Yahoo! Finance.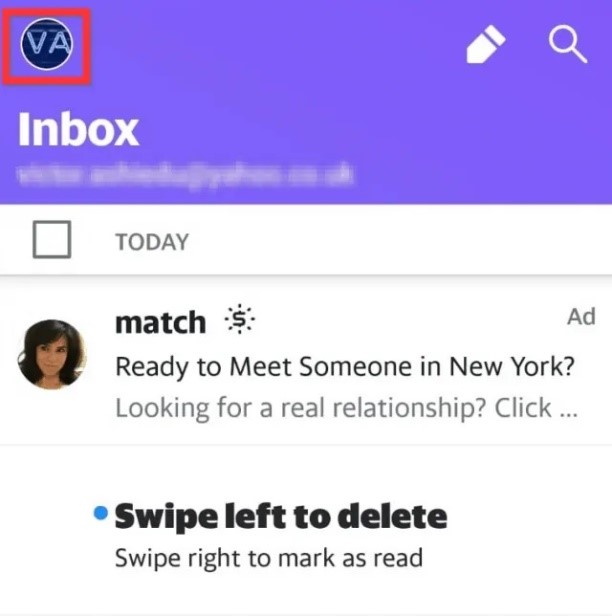 Method-2
How to Change Yahoo Mail Password on Android
If you use Yahoo mail on your android device, here's how to change your Yahoo mail password on android.
1. First of all, open the Yahoo mail app on your phone and make sure you've already logged into your account. Once you're in. select the three dots Menu icon at the top of screen.
2. Doing so will reveal the options. Select the "Account Info" (Yahoo mail app users may need to select Manage Accounts).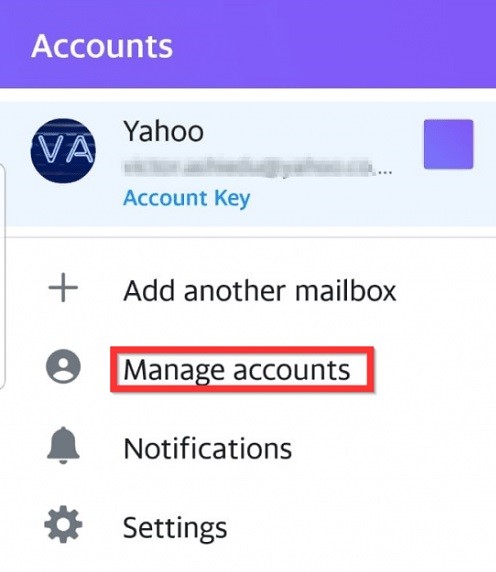 3. Select Security Setting and enter the security code of your phone. This is the code you usually use to unlock your iPhone.
4. Now, choose "I Would Rather Change My Password." Type in your new desired password twice to confirm it's correct.
Finally, select Continue and you're done.
Method-3
How to Reset Yahoo Mail Password
In case the above method doesn't provide you the desired results, try to forget your password in order to recover your Yahoo email account. Here's how to reset Yahoo mail password.
1. Visit Yahoo Sign-in Helper page and complete the verification process that works best for you. On this page, click on the "Forgot Password" at the bottom of the sign-in page.
2. Now, select you want to verify your account: via Text, Gmail, or Email.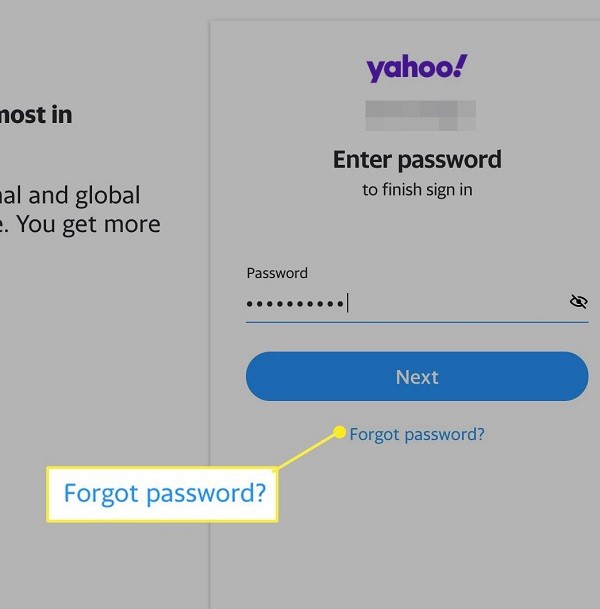 Text: If you choose Text, you'll receive a code on the number you will entered. Enter your phone number and submit it to receive a code.
Email: If you picked the email option, continue to the next step.
Gmail: If you chose Gmail, follow the prompts to log in to your Gmail account.
3. Now, enter the verification code in the provided field and follow the on-screen prompt to recover your Yahoo account.
4. Now, you can enter the Yahoo email new password. Login back with your Yahoo mail new password. Make sure you choose the strong and secure password for your Yahoo mail account.
How to Change Yahoo Email Address
If it's not about the password but about the email address, then here's how you can change your Yahoo email address.
1. Visit Yahoo Login Page on your preferred browser on Windows and Mac both, and sign in with your username and password.
2. Once you're in, click on the gear icon in the upper right corner of your screen. Doing so will open a drop-down menu.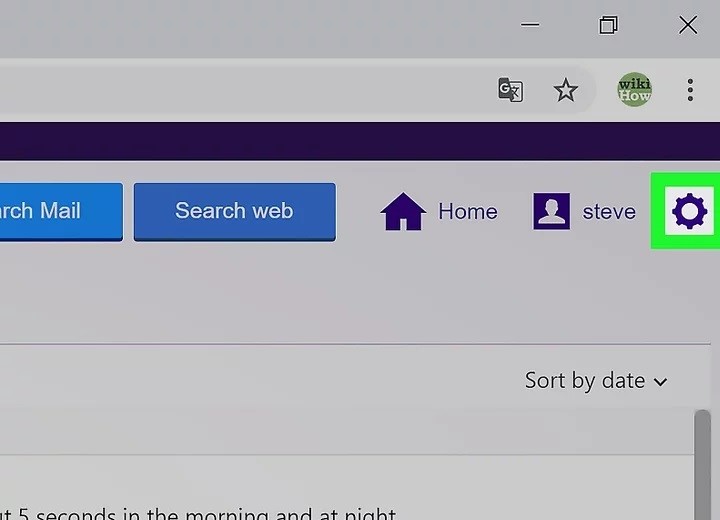 3. From the drop-down menu, click "Settings," in a new pop-up windows.
4. Now, click on the "Accounts' tab on the left-hand side of the "Settings" Windows.
5. Now, click on "Add another mailbox" under "Email addresses." Doing so will open the list of popular email providers such as Gmail, Outlook, Yahoo and etc.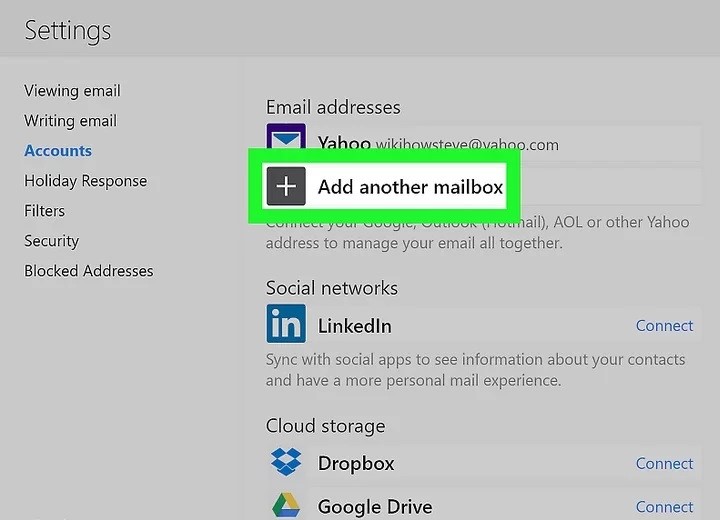 6. Select the email client you want to connect with. Enter the email address in the provided field.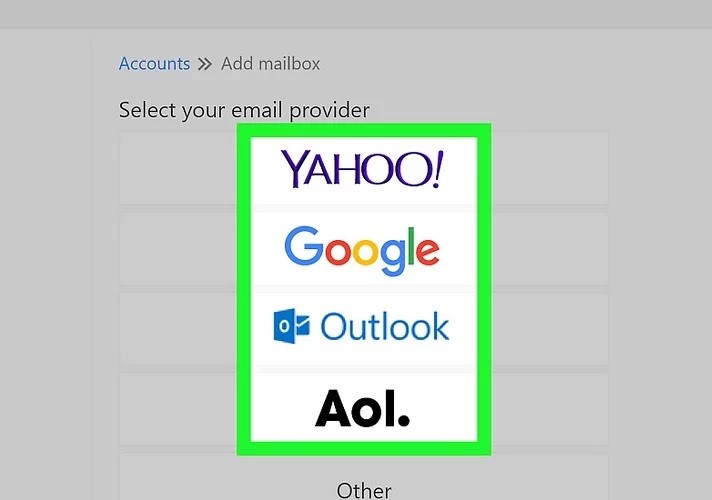 Note: This must be an existing email account. If you don't already have a second email address, you need to create a new one.
7. Now, click "Add Mailbox." You'll be asked to sign into your new email addresses and confirm your decision. Sign in to your email account. Enter your email and password in the pop-up window to verify your account.
8. Click on the "Allow" button to sync the content of your two email addresses. Finally, click done. Doing so will connect your secondary email address to your Yahoo mailbox.
Want to delete Yahoo Account? Here's what you need to do.
Backup is Crucial! Before Resetting/deleting Yahoo Account
Before you go ahead and reset or delete your Yahoo account, it is crucial for you to take a complete backup of your data. This point is same for all the emails or accounts which you want to delete. It's good to take a backup before deleting your account.
I am sure you have some important documents in your emails that you don't want to lose. Not only attached documents, but emails are also considering the important ones. It contains a lot of details and commitments, so you should even take backups of your most important emails through simple copy-pasting or by forwarding them to your secondary email.
In case you've lost your data before deleting your account, use Waredot RescueData 21.0 to recover your data including emails, attachments, and so on.
There are some really necessary documents, emails, and others stuff that must be in your emails that you should and want to recover before deleting your Yahoo Account. We've put them together so that you can't miss a single piece of data from your Yahoo Emails Account.
Yahoo Emails and Attachments
If you have a lot of essential data in your Yahoo Mail, make sure to back up all your Yahoo emails.
Export Yahoo Contacts
If you also have some Yahoo contacts in your email, you can export them as well.
Ensure that you have access to Yahoo products.
Remember you will be required to use the same email account for the future if you've already subscribed to Yahoo products. Therefore, you should first change the primary account for accessing the particular products before you delete your Yahoo account.
Remove third party access
If you're Yahoo email account connected to other third party services and you're also paying for that, then you should remove that third party access or change the on that particular services.
Cancel Your Subscription
Before you decide to delete your Yahoo account, cancel all of your Yahoo subscription services. If you only remove the account, you will still be charged.
Change Recovery Options
If you're using your Yahoo e-mail to reset passwords for other accounts, you should change your recovery e-mail before deleting the Yahoo account.
How to Delete Yahoo Email Account
Here's how to delete yahoo email account on computer.
1. Visit Yahoo Delete User page on your computer's web browser and enter your username. Now, click Next. You should see an option to cancel your account, if don't, you may have a BT Yahoo Mail Account instead, you can check this below.
Note: If you got your Yahoo Mail Account with British Telecommunications (BT), you cannot cancel the service using the Yahoo Mail Account termination page. You need to contact BT directly to have your Yahoo Mail Premium account deleted.
2. Now, you'd enter your password. If you have an Account key set up, Yahoo will send a message to your mobile phone to verify you.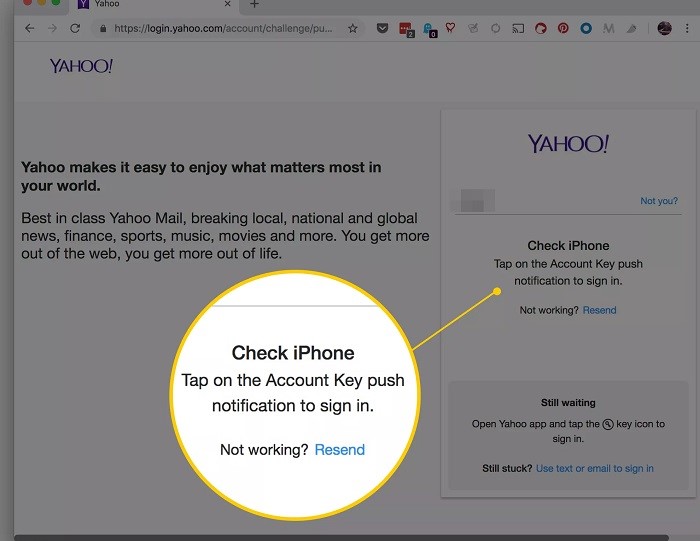 3. Read the text on the page that says "Before Continuing, please consider the following information." It gives you details of what you will lose when you delete your Yahoo Mail account. Press Continue to delete my account.
4. Now, enter your email address once more into the file provided.
5. Now, check yes, terminate this account. If it goes well, you see a message that reads "Your account has been deactivated and scheduled for deletion". Press got it to return to Yahoo's homepage.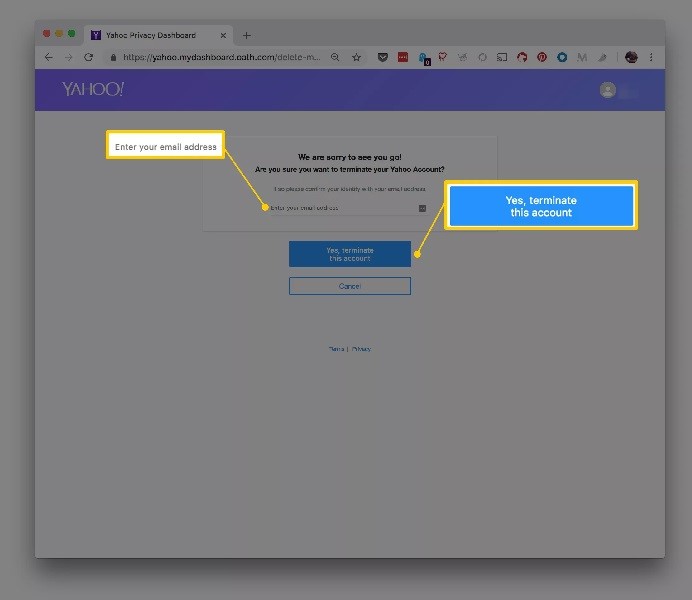 Note: In some cases, Yahoo won't actually remove everything for up to 180 days, but that depends largely on the country you signed up from. Data connected to a Yahoo Finance Premium account might be kept for three calendar years.
How to Set Up Yahoo Mail on Windows
If you're a new user on Yahoo mail and want to explore about Yahoo mails, then create your Yahoo account. Here's how to create Yahoo mail account on Windows.
1. First of all, open Windows 10 Mail app. This is the blue envelope icon with white paper under it.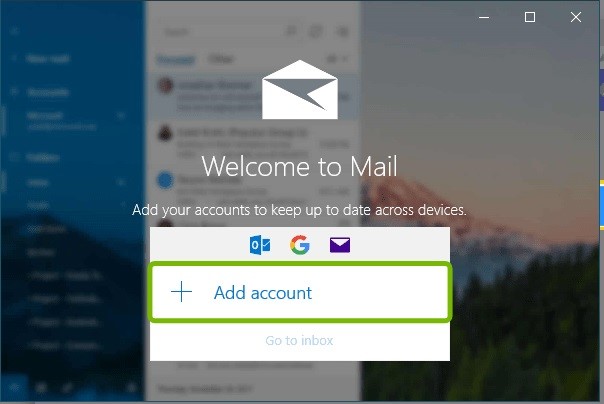 2. Once you open it, select Yahoo! You'll be asked to enter your full email address and select Next.
3. Now, choose your "Password" and select "Sign in." You will be asked to allows Windows Mail to access your Mailbox. Select "Agree."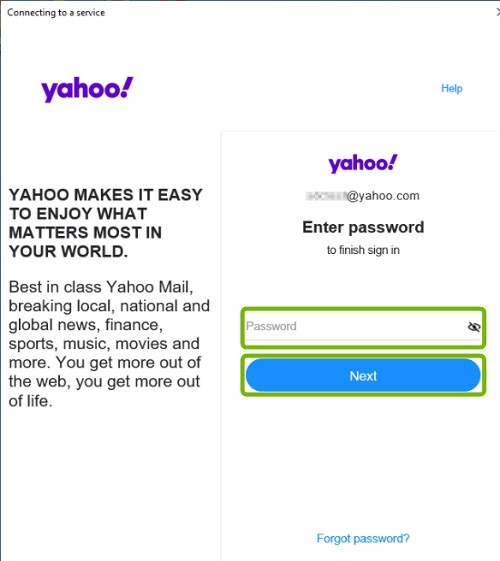 4. Now, Windows may ask you to save your information, select Yes. Your account is all set up, select Done. Wait for a while, and you will see that your email will sync and appear in your Inbox.
Congrats! You've successfully created your Yahoo account.
How to Set Up Yahoo Mail on iPhone
Here's how you can get your Yahoo mail on your iPhone in few clicks.
1. Open the iPhone's "Settings" and go to "Mail>Account."
Note: This setting may be differ depending on your iOS version. On later version, you may need to select Settings>Passwords & Accounts or Setting > Mail> Contacts > Calendars.
2. Click "Add Account > Yahoo." Enter your Yahoo email address and then choose Next.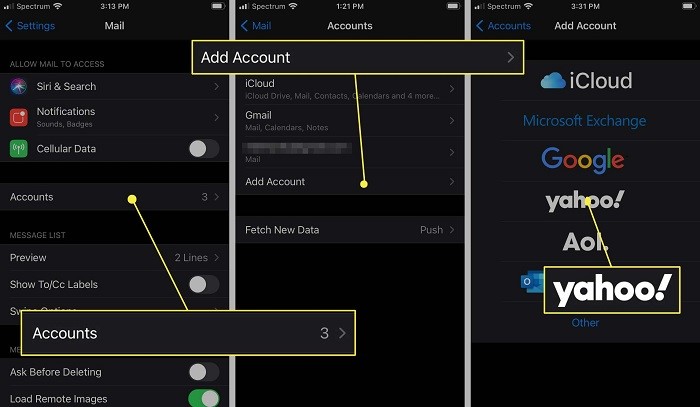 3. Enter the password for your Yahoo email account and then choose Sign in.
4. Turn on the "Mail" toggle switch and enable other items you want to sync, such as Contacts or Calendars events.
5. Select Save and your Yahoo email account will begin syncing with your iPhone.
Use Yahoo's Official Email App
The Yahoo Mail app is another option for accessing and sending Yahoo emails on your phone. This is the official Yahoo app, which includes functionality not found in the iPhone's built-in Mail app.
Use the Yahoo Mail app to do more than just read and respond to emails.
Clip and save coupons.
View flight details and check-in for flights.
Only receive notifications from people, not from newsletters or businesses.
Use professionally created stationery and animated photos.
To send attachments, connect to Google Drive and Dropbox.
How to Switch Yahoo Mail Basic
If your internet connection is slow, your browser is having troubles, or you prefer a simpler experience, switching from regular Yahoo Mail to Yahoo Mail Basic will provide you a cleaner, faster loading interface.
Note: Yahoo Mail turns to basic mode automatically when it finds difficulty in browsing emails.
Here's how to switch Yahoo mail basic.
Click Settings > More Settings. Doing so will open the drop-down menu.
Now, click "Switch to basic Mail." The basic interface will start loading.
Note: To come back to the latest version of Yahoo mail, just tap "Switch the newest Yahoo Mail" on the place of basic mail.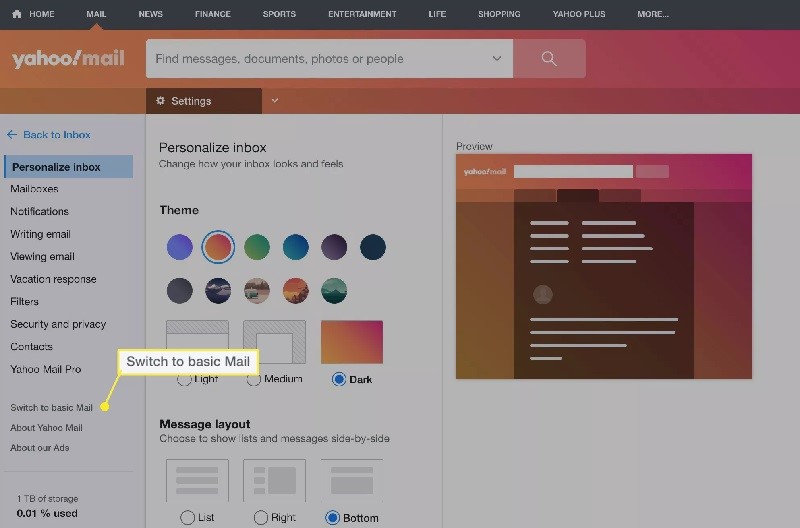 Fix Yahoo Mail Issues with iOS
Most troubles with the iOS Mail app are caused by incorrect settings or a problem with the Yahoo Mail account you're trying to add.
Check if your account works outside of the app
Stay Up-to-date
Try to remove and re-add Yahoo Mail to iOS Mail
Try to Add Yahoo Mail to iOS Mail with IMAP
Use Alternative- Yahoo Mail app
How to Delete All Email on Yahoo
Think twice before you permanently delete all emails on Yahoo. It may possible that you cannot recover your deleted emails on Yahoo in future. In addition, this feature is time-consuming, since it doesn't always allow you to truly select all the messages at once.
1. Open Yahoo Mail in a web browser and make sure you're already logged in. Click the checkbox at the top of the browser, above the inbox.
2. If you see the drop-down menu, click Áll." Otherwise, it should select all automatically. Make sure that this will select the only messages displayed on your screen.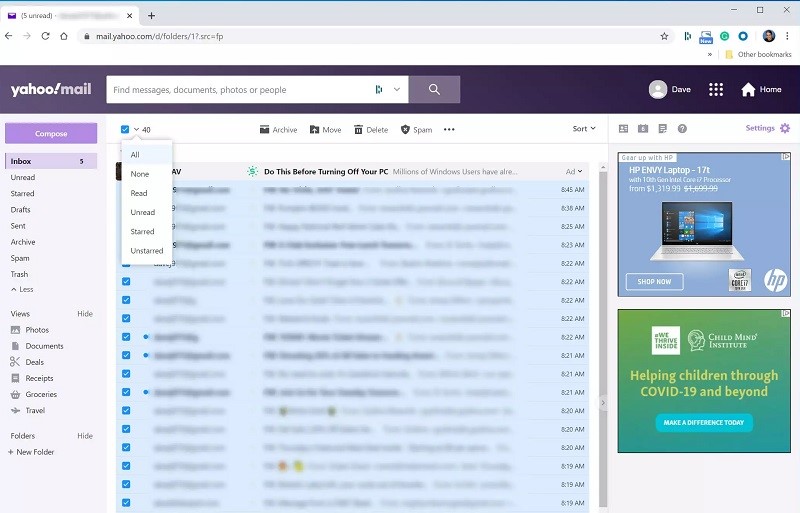 3. If you want to select more messages, scroll down to see all the messages in the inbox. You need to check the arrow again to click "All." You should now see that all the messages are selected.
4. Now, click "Delete" and confirm this is what you want to do. If that still doesn't delete all the messages in your inbox.
How to Delete Any Email Account on iPhone
If you're using Yahoo email on your iPhone, then no worries, you can still delete your Yahoo email account from your iPhone.
Note: You could find deleting every email procedure is quite the same, except security prompts.
1. First of all, open the "Settings" app on your iPhone and go to the Passwords & Account section.
2. Here, you'll see all of the accounts that you are logged in to. All active mail accounts will be listed here. Click on an account to see its fine details.
3. Next, click on the toggle next to the Mail option to disable email syncing.
4. Now, you can see that the particular email inbox will disappear from the Mail app.
Note: You can go back to the "Password & Account: section and follow the same process for removing the email account from other services.
Summary
Hey guys! This was the guide about "how do I change my Yahoo password." Whether you're an new or existing Yahoo mail user, this guide will surely help you with most of your Yahoo mail issues. We've discussed most of Yahoo mail issues. Hope you find your answer in this article. If your query is not listed in this article, please comment below your query regarding Yahoo Mail.