How to See Wi-Fi Password in Windows 10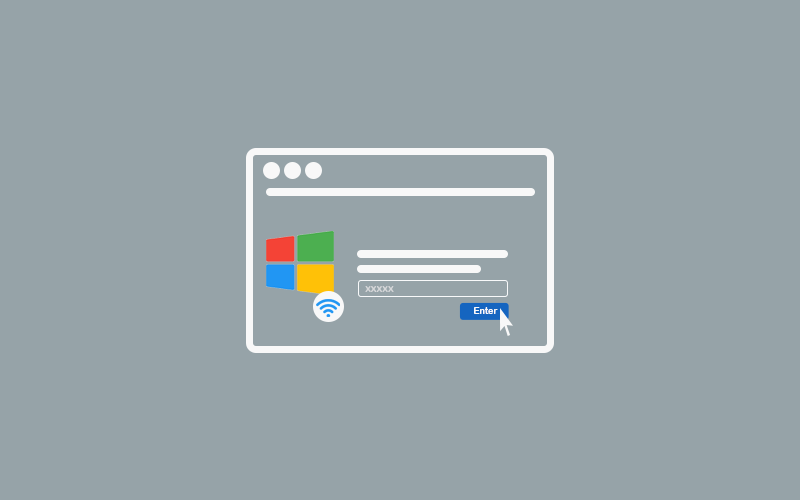 As a Windows user, you can easily check your Wi-Fi password on Windows 10. This process isn't so much or not contains a bulk of steps. Truly it's a matter of few clicks. In this article, we will guide you best ways to see your Wi-Fi password in Windows 10. Read on.
How to See Wi-Fi Password in Windows 10 via Settings
Most of the tasks performed first via setting, whether you use any device. Using the default settings option you can easily see the current Wi-Fi network password you're connected to. To go ahead with this method, make sure you're connected to the network whose password you want to know.
1. First of all, open up the Settings on Windows 10 or navigate to the search bar and type Settings, and hit enter. Now the settings will be open.
Alternatively, you can press keyboard shortcut key "Windows + I" to open the Windows settings.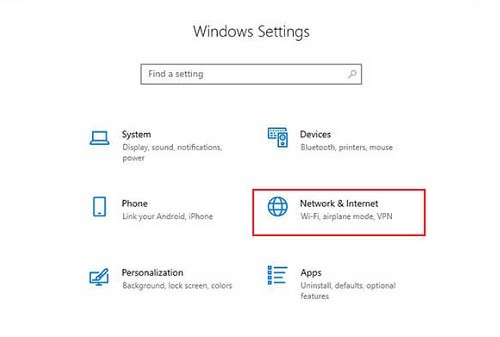 2. Click on the Network & Internet once the settings windows open up. Now, you will need to scroll down until you see the options that say "Network and Sharing Center" and hit on it.
3. You will be directed to the following Windows. Click on the "Wi-Fi network you are connected to". Click on the "Wireless Properties button."
4. Hit the "Security" tab on the upper right-hand side. Then, choose the "Show Characters" checkbox. This will show you the Wi-Fi password for the network you are connected to.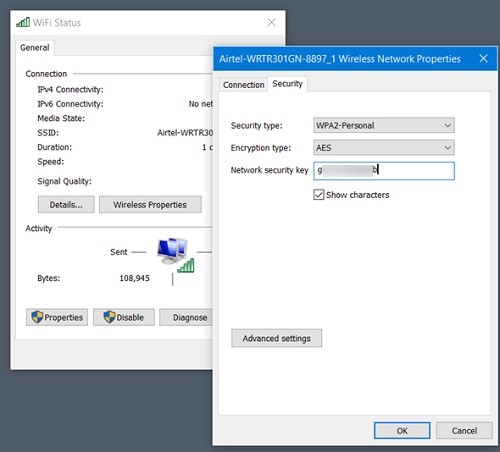 How to See Wi-Fi Password from Windows Control Panel
However, the above method works fine, what if you cannot access Windows 10 settings at all? If you want, you can directly access your WI-Fi password or network settings using the Run Command. As long as you can access your network settings, this method should work for you.
First of all, Open the Run dialog by pressing the Windows+R key, and type ncpa.cpl in the text field and then click on OK. You can find the Run dialog box in the left corner of your screen or nearby the Windows Search Bar.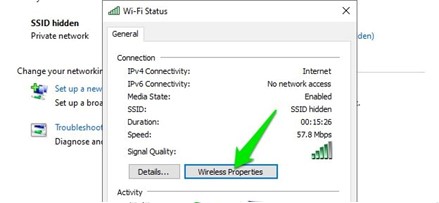 This command will directly open your network connection in the control panel—Right-click on your WiFi network here and select Status from the context menu. Click on Wireless Properties in the WiFi Status window. Now click on the Security tab and then click on Show characters to reveal your WiFi password.
How to See Wi-Fi Password using Tool
If you want to find the wi-fi password for a network you've uses in the past or you are experience trouble navigating Windows 10, you can use free third-party software such as a WI-FI password revealer.
To download the WI-FI password revealer, click on the link and it will direct you to a new page. Click on the Download on button.
1. Download Link: https://www.magicaljellybean.com/wifi-password-revealer/
2. Now, after downloading the software, open it in your web browser. Select your desired language and click OK to continue further. Now, choose "Accept the agreement" and click on Next.
3. You will need to click on the destination location to save the folder now. Choose whether to add an additional shortcut. We recommend you check that for convenience's sake, but it's totally up to you.
4. Hit "Install" and click on "Finish" once the program is installed on your PC. You can see that the application will open and reveal all the networks you've connected to using your Windows device in the past, along with the passwords you've used to successfully connect to each one.

How to Find Wi-Fi Password on Windows 7 and Windows 8
Finding Wi-Fi password on Windows slightly older version is quite same as Windows 10. If you're using Windows 8 or Windows 7, here's how to see Wi-Fi password for your Wi-Fi network.
1. First of all, select the "Start" menu on your computer.
2. In the "Start Menu" search bar, enter "Network and Sharing Center" and press the "Enter" key when the selection is highlighted.
3. In the "Network and Sharing Center" Windows, select the name of your Wi-Fi network.
4. Select "Wireless Properties," and go to the "Security" tab and choose "Show Characters" to show the Wi-Fi password.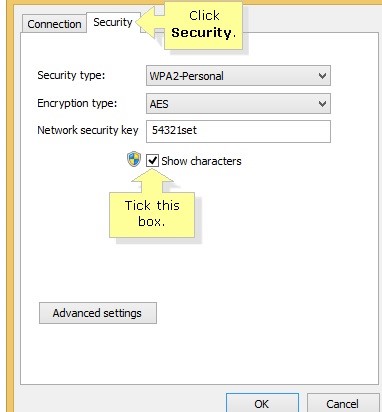 How to Share Wi-Fi Password in Windows 10
Microsoft offers the Wi-Fi Sense that lets you silently share Wi-Fi password with your friends, and family, Wi-Fi sense uploads your password to a Microsoft server and then distributes them to your friends. The next time they come within range of that network, their devices will connect automatically with no need to worry about passwords.
This is the best way to share Wi-Fi network password if you find yourself doing that far too often. Here's how to share Wi-Fi password in Windows 10.
1. First of all, start by getting started by Wi-Fi sense. Make sure to check on that Wi-Fi sense is active on Windows however, it should be on by default on your Windows 10. If not, then you need to first turn it on.
2. To start the WI-Fi sense, select the Start button and then choose Settings on your Windows 10.
3. Now, select the Network & Internet and choose Wi-Fi. Click on Manage Wi-Fi settings, doing so will take you to the Wi-Fi sense screen.

4. At the top are two slider buttons that you can turn or off. The first one labeled "Connect to suggested open hotspots" will allow you to connect automatically to public Wi-Fi hotspots. This is a helpful feature if you travel a lot, it will not help you to share login authentication with friends.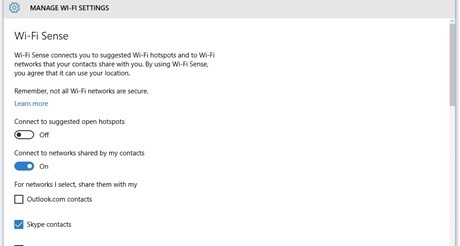 5. The second one is labeled "Connect to networks shared by my contacts." This allows you to share with friends, after you turn that on, you can choose from three networks of friends to share with including your Outlook.com contacts, Skype, and Facebook. If you want you can also choose all three or just one or two of them.
How to Crack Wi-Fi Password
If you have a network whose password you want to crack due to any reason, you can do so. Today, technology is making everything possible. So, it's not so difficult to crack Wi-Fi password whether you use Windows or Mac.
Aircrack is one of our choice to crack Wi-Fi password. Aircrack works since Wi-Fi security was only based on WEP (Wired Equivalent Privacy). WEP was weak even back in the day; it was supplanted in 2004 by WPA (Wi-Fi Protected Access).
Aircrack is a complete box of tools to assess Wi-Fi network security, so it should be part of any network admin's toolkit. It will take on cracking WEP and WPA-PSK keys. The best thing we like about "Aircrack" is free and it comes with full documentation.
To use Aircrack in order to crack Wi-Fi password, you need to have the right kind of Wi-Fi adapter in your computer, one that supports packet injection.
Here, make sure your Wi-Fi adapter and Aircrack have to gather a lot of data to get anywhere close to decrypting the passkey on the network you're targeting. It may take few minutes.
If You Can, Doesn't Mean You Should!
Cracking or hacking Wi-Fi passwords isn't a good thing. You seriously should not perform any activity like this. We explain to you how you can crack the Wi-Fi password for any condition when you're in miserable condition and you do not have any hope.
In this era of technology, we do not neglect that everything is happening and it makes everything possible. But, when you have the power to do something, it's you only who decide what is right/wrong. Off-course, we always recommend you to go with the right path.
How to Change Wi-Fi Password on Windows 10
If you've changed your phone hotspot or Wi-Fi password, then you need to build the connection again between your Windows 10 and Wi-Fi. Otherwise, you cannot access to the network. Here's how you can change the Wi-Fi password on Windows 10.
1. First of all, open Windows 10 Settings and click on "Network & Internet."
Alternatively, you can press keyboard shortcut "Windows + I" to open the Settings.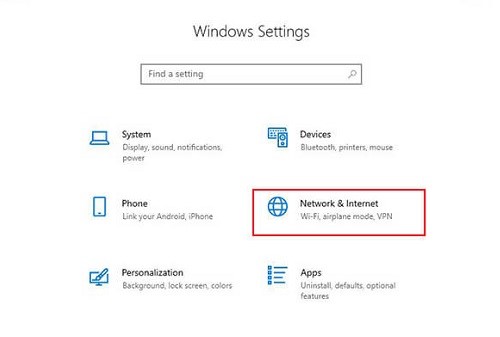 2. Now, select Wi-Fi option on the left side and choose "Manage Known network." Here, you will get all the previous Wi-Fi networks that you have ever connected to.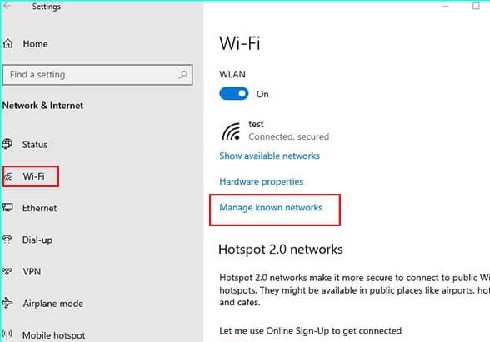 3. Now, choose the one network that you want to change the password. As you click on the network, you will find the "Forget" option. Click on it.

4. Doing so will erase the network details from your Windows computer. After that, find the network again the list of networks appearing on the screen. Click on the same network and you'll be asked to enter the new password to connect the Wi-Fi.
Note: Make sure that in the complete procedure your Wi-Fi connection must be enabled or turn on.
How to See Wi-Fi Password on Mac
Finding a Wi-Fi password on Mac isn't easy to do, but if you already have your Wi-Fi password saved to your Mac, there is a relatively simple way to recover that password when you lose track of it.
Press and hold down "Command" and the space bar. Doing so will open the Spotlight search bar. Type "Keychain Access" in the Spotlight and it will appear in the menu. Click on Keychain Access to open it.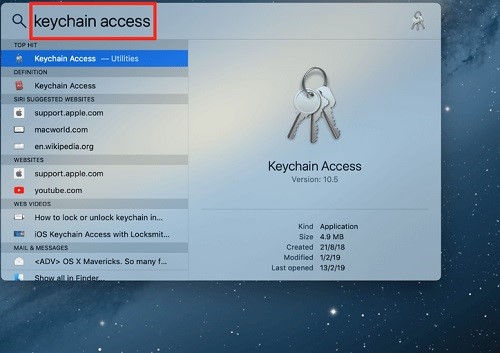 2. Once it opens, you'll be able to find saved passwords to applications as well as internet forms.
3. Now, navigate to the left toolbar, toggle down to the "Passwords" section.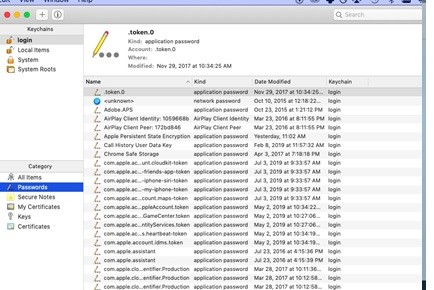 4. Now, type your home Wi-Fi network name in the search bar in the upper right corner of the Window.
5. Double click on your network when it happens in the main section of the Window-doing so will prompt another window to open.
6. Check the box next to "Show Password" and, it necessary; enter your Mac password when prompted.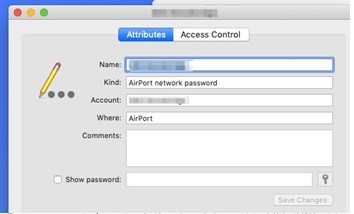 7. Now your Wi-Fi password will then appear in the box next to "Show Password." In addition, on any Apple device running iOS 12 or up, you can share a Wi-Fi password with another device in range, and it will automatically join the Wi-Fi network.
Is Your Wi-Fi Password Secure?
If you're using Wi-Fi for internet connection then unfortunately you are in danger. However, it's good if you use a password protected Wi-Fi network and never shared your password with anyone. Still, stay always one step ahead and therefore we recommend you to use Waredot Antivirus that adds the advance protection layer not only on your Wi-Fi connection even on your system as well.
Summary
Hey guys! This was the guide about "how to see wifi password on Windows 10." Here we've discussed few ways to see the Wi-Fi password on Windows 10, Windows 8, and Windows 7. If you're also looking for a guide on how to find a wifi password, then this guide is for you.
Hope you find this article helpful and informative. If you've any queries regarding this article, please let us know in the comment section. We would glad to answer you!