How to Reset Microsoft Password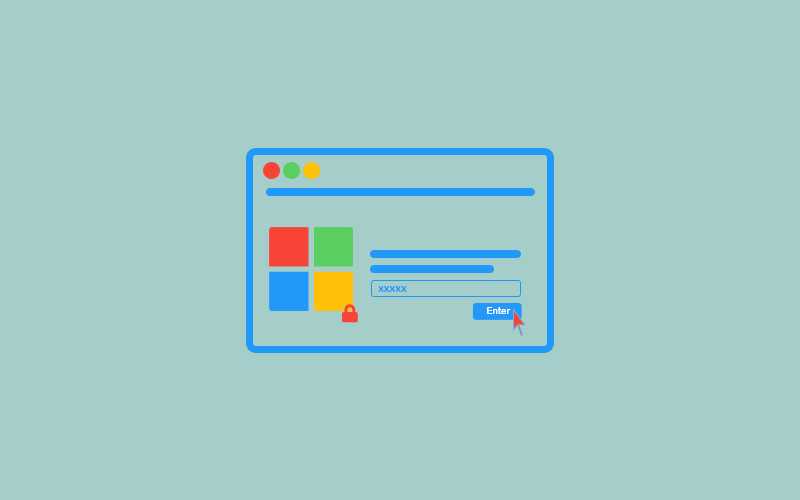 You might forget your Microsoft account password or find any unusual activity on your Microsoft that leads you to change or reset your Microsoft password. Doesn't matter the reason, you just need to follow the right step to reset your Microsoft account password.
In this article, we will guide you on how to reset or change your Microsoft password.
Before You Go Ahead:
Password is a security that secures your data from being compromised, but your password also needed protection. And that can only provide by Waredot Antivirus. It protects your system, software, files, folders and etc., and takes action before happening any disaster to your data.
How to Reset Microsoft Account Password
Before resetting your Microsoft account password, remember that this will also change all your passwords from the services connected to this Microsoft account. After resetting your Microsoft account, you need to log out from all Microsoft services and do login with the new password.
1. Go to Recover Your Account page on your web browser on any computer or device.
2. Now, enter your Microsoft email address or the alternate email address, phone number, or Skype name associated with the account, and then select Next.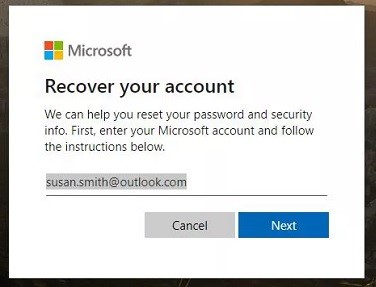 3. Now, you will receive the code generated by the authenticator app and sent to your alternate email address or phone number. Choose "Use a different option" if you need to. Enter that code in the provided field.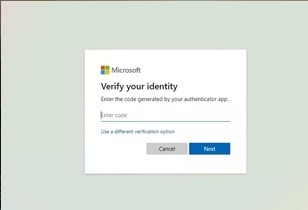 4. Now, you may be asked to enter the last four digits of your phone number or the complete email address associated with your account, so that you can get a verification code. Enter the information and click on "Get Code."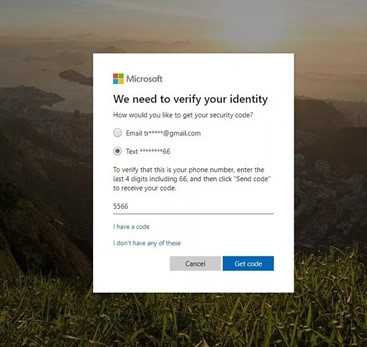 5. Now, look for the code on your email address or phone number. Enter the verification code you get and select next.
6. Now, you might have to complete the other verification process if you've enabled two-step verification. For instance, after entering the above code, you might need to also use the authenticator app to get another code.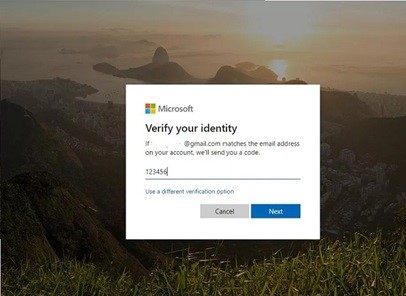 7. Now, enter the new password you want to use. Make sure it should be at least 8 characters. You need to re-enter the password and select next.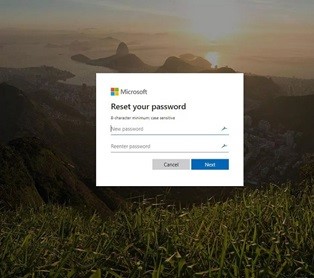 Note: Microsoft requires that you do not use a password you've used in the past.
8. Now, you will receive a notification that will confirm your password has been changed. Select "Sign in" to log in to your Microsoft Account using the new password.
I can't reset my Microsoft password-Why?
If resetting your Microsoft account password attempt failed, then you should try to fill the account recovery form. Filling out recovery form will help you to recover your password. This process might be lengthy as it's designed to ask questions about your account to confirm your identify and you can only answer it. Once you submit the account recover form, Microsoft will start reviewing your answer and respond within 24 hours.
Note: Make sure the account recovery form can only be used if two-factor verification isn't turned on.
Before filling out the account recovery form make sure you've working email that Microsoft can use to communicate with you.
Microsoft says, if possible, you should complete the form using a device you previously used to sign into your account and at a place where you commonly use that device and that we'll recognize, such as your home or office.
When you're ready to fill out your form , you can find the account recovery form here:
Account recovery form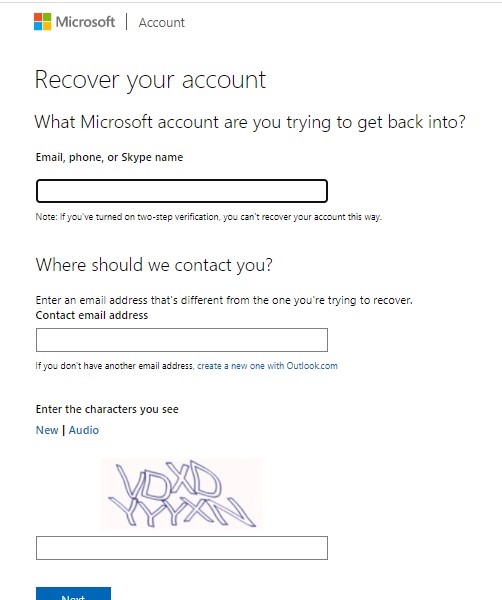 While filling out the account recovery form, we recommend few guidelines that will help you to stand out in the form and can easily recover your account.
1. Provide as much information as you can about your any Microsoft services you may have used with this account. Doing so will increase the change of your account recovery.
2. You should try to answer as many questions as you can. In case, if you're not sure about any question, then guessing is ok- wrong answer don't count against you.
3. You'll be asked some specific question related to the account you're trying to recover. This information can be only answer by the person who was truly using that service or products.
For example, if you were using Outlook.com or Hotmail.com accounts, then:
Microsoft will as you questions about your contacts and email subject lines. If possible, take help from your friends and family that you may corresponded with from that account for help.
If you're using Skype, then:
You'll be asked for the Skype ID or names of contacts on their account. If you use Skype to call mobile or landline phones, you'll also be asked for some of those along with details about a recent Skype purchase.
This is how Microsoft will ask you some specific question related to the services or products you were using with that account.
How to Change Microsoft Password
Learn how to change Microsoft password.
Visit account.microsoft.com and if you aren't already signed into your account, sign in using your username and current password for the account you want to update.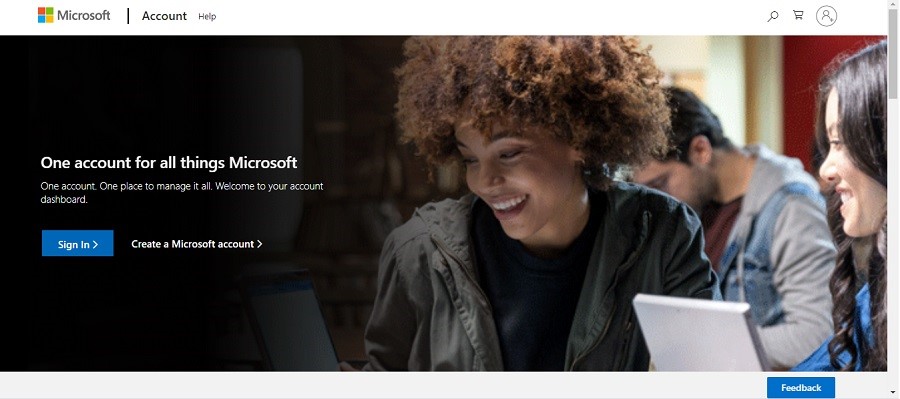 Now, from the navigation header, you need to select "Security" and you'll be asked to enter your current Microsoft account password again.
Now, from the "Password Security tab, select "Change my password."
On the Change your password page, enter your current password and then enter your new password.
For better security purpose, you can select the optional checkbox which prompts you to update your password every 72 days.
Finally, select Save.
How to Change Microsoft Account Password in Outlook.com
Your Outlook.com password is the same as your Microsoft account password. Here's how to change your Microsoft account password on Outlook.com.
First of all, go to Microsoft Account Security page and if you're not already signed in, you need to sign in with your username and password.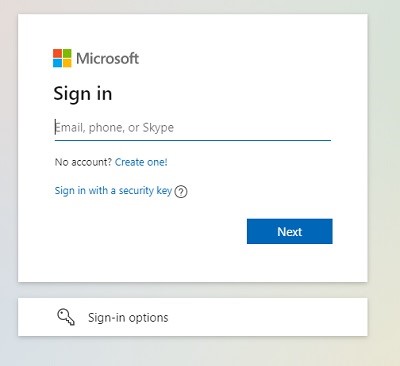 Once you're in. click select "Password security."
Due to security reasons, you might be prompted to verify your identity with a security code. Choose through which means you want to receive security code- code by email or phone.
You'll be asked to verify your email address or the last four digits of your phone number, and then select
"Send Code"
Once you receive the code, you need to enter the code in the provided field and select Submit. You need to enter your current password and then enter your new desired password.
Finally, select Save.
How to Change Microsoft Authenticator Into Your Password Manager
A password manager is generally required to passwords across many browsers on your PC and mobile device. Unless you use the Microsoft Authenticator app, that is. Its features have been expanded to include password management across Microsoft Edge and Chrome, despite its original purpose of providing two-factor authentication for your online accounts.
The Microsoft Authenticator app will sync your website's passwords in Ege on iOS /iPadOS and Android one, as well as in Chrome on your PC via an extension. It can also fill in your password using your Microsoft Autofill, protect logins with two-factor authentication; and additionally, import passwords from other services. Here's how to do so.
1. First of all, you need a Microsoft account. If you already have on, then its good. And if you don't already have one, head to Create a Microsoft account and create your account. Follow the on-screen instructions to create your Microsoft account. Once you've created your account, you can follow next steps.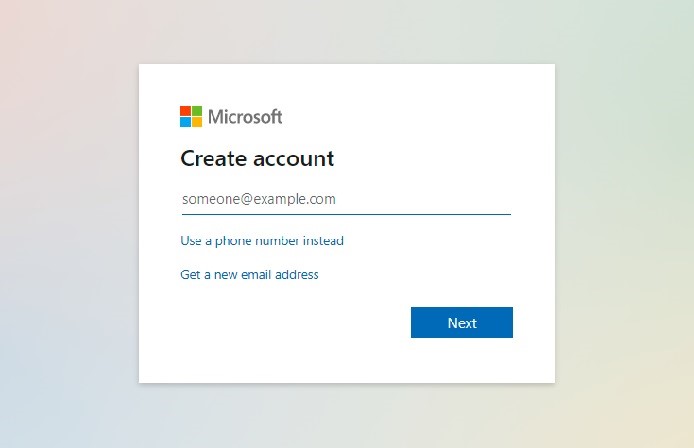 2. Now, you need to Install Microsoft Authenticator app from Google Play Store or Apple's App Store. Once you installed the app, you need to appoint it as your device's password manager. To do so,
Go to "Settings >Passwords> AutoFill Passwords on your iPhone or iPad.
Make sure to check the entry for Authenticator. If Keychain is checked, you'll need to uncheck that as well.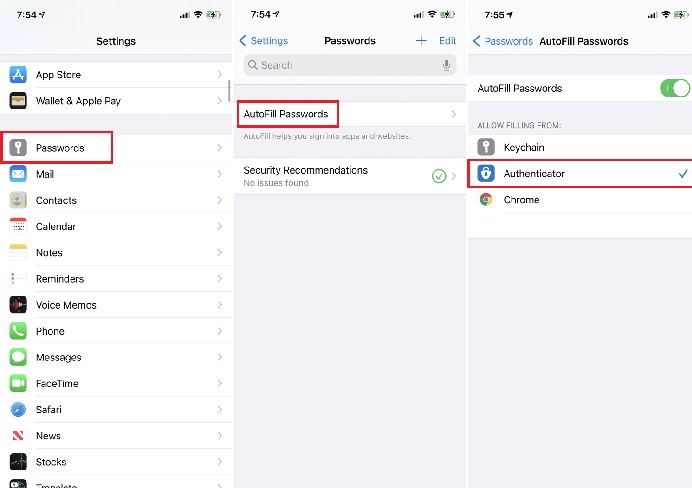 For Android users,
Go to "Settings> System > Language & input > AutoFill service, however it is nested on your device. Here, at the list of AutoFill services, you need to click on the entry for Authenticator.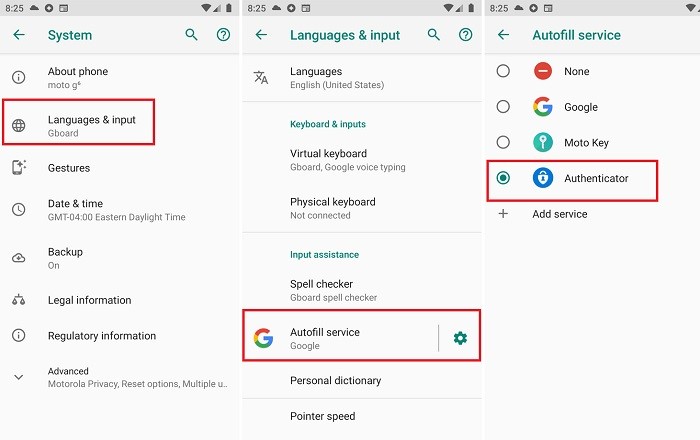 3. Now, open the Microsoft Authenticator app and sign in with your Microsoft account. After adding and syncing your Microsoft account, click on the "Passwords" icon at the bottom. If you've already been storing passwords through another app, then you should import those passwords into Microsoft Authenticator.
Microsoft Authenticator app allows you to import passwords from a variety of other programs, including Google Chrome, Firefox, LastPass, Bitwarden, and RoboForm.
You may import the passwords directly into Chrome. Go to Settings > Passwords > Export Passwords on your mobile device, then tap Export Passwords. Assign the target to Authenticator. Return to Authenticator to see the passwords that were imported.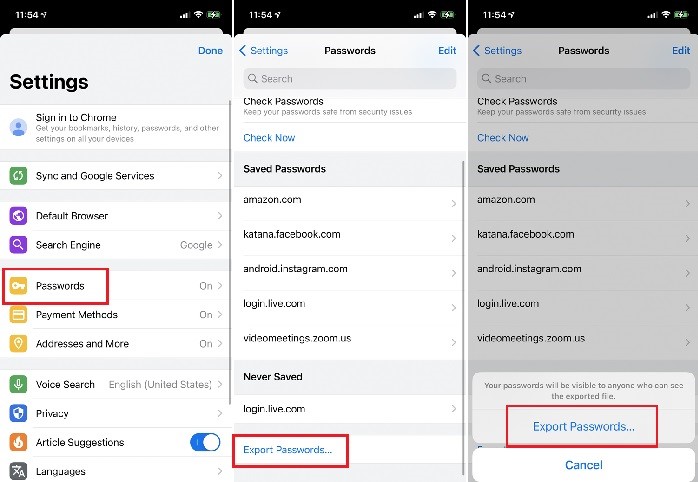 Remember for all other programs, you need to generate a CSV file that can then be imported into Authenticator.
Learn how to create CSV file.
Open Settings or Options menu in a password manager. Follow the steps to create the CSV file, and then move it to your mobile device or cloud-based storage device that you can easily access from your mobile devices.
Open the menu and go to "Settings>Import Passwords," into Authenticator app. Click on the button for Import from CSV. Now, you need to browse to and choose the CSV file. You're then returned to Authenticator to see your imported passwords.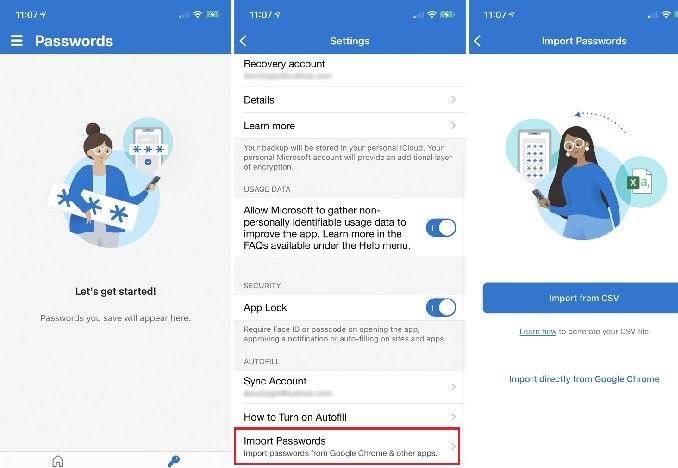 4. Now, turn on Microsoft AutoFill, which is built into Edge and usable with Chrome through an extension and save login credentials for all new accounts or ones not already imported into Authenticator.
On mobile devices, open Edge and browser to a website with login credentials that have yet to be synced with Authenticator. You need to type your username and password and then click on the key icon above the keyboard to open the Authenticator app.
Now, click on "Add password." Enter the username and password for the site you want to use and then click Save. Your password should automatically be entered in the password field.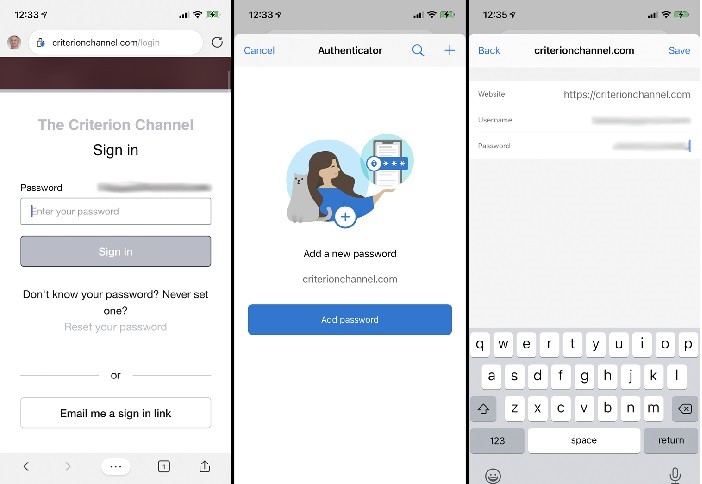 So each time you need to sign into that websites you've added to Authenticator app, you just need to type username and then click the password field. Click on the key icon above the keyboard to open the Authenticator app with an entry for that website. Select the entry to fill in the password and then sign in.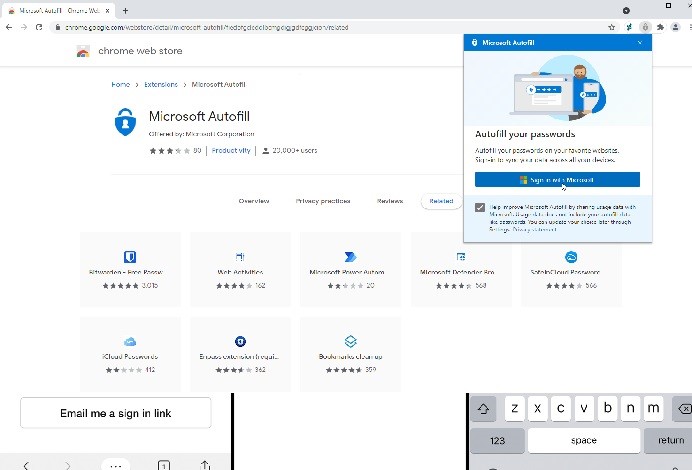 If you're using Chrome, then add the Microsoft AutoFill extension to the browser through the Chrome Web Store. Now, enable the extension, then click the AutoFill icon in the Chrome toolbar. Click the Sign in with Microsoft button and sign in with your Microsoft account.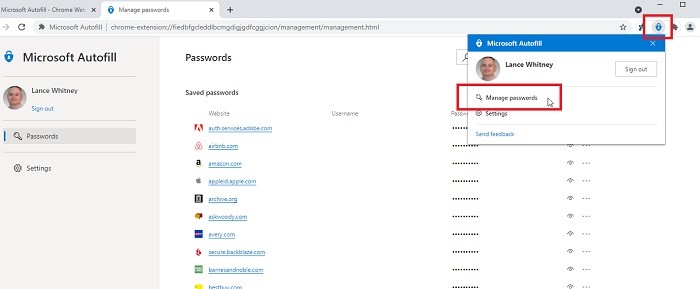 Once you're in, click on the AutoFill icon again and select the "Manage Passwords" button. Once you're in, click on the AutoFill icon again and select the "Manage Passwords" button. You need to wait for a while, and your saved password should sync and appear in the list.
If you want, you can also visit a site with credentials not yet saved in Authenticator. When you enter the credentials (username and password) Microsoft Auto Fil will offer to save your credentials.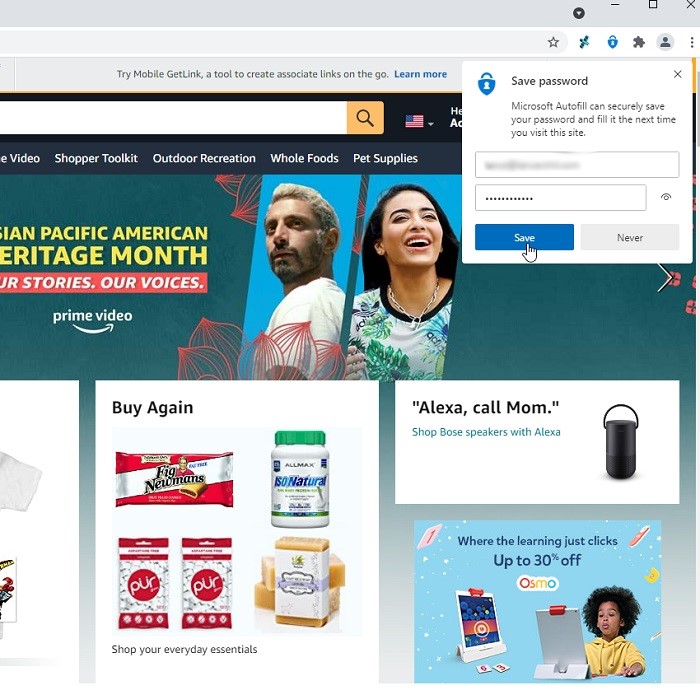 Summary
Hey guys! This was the guide about "how to reset Microsoft password." Here, we've discussed how you can make changes to your Microsoft account. Password is very sensitive information and you should never share it with anyone. Sharing passwords with anyone may bring you in trouble.
Hope you find this article informative and helpful. If you've any queries regarding this article, please let us know in the comment section. We would glad to answer you!